Sports Puzzles & Stools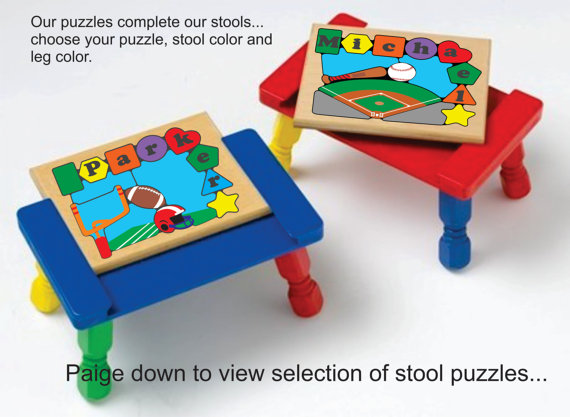 PUZZLES ARE LOCKED INTO THE STOOL TOP WITH 4 SCREWS UNDERNEATH.

We have 5 Personalized Name Sport Theme Wooden Puzzles and Step Stools and 1 Custom Name Sports Theme Wooden Puzzle and Step Stool for you to choices from. What a great gift for any child learning how to play one of these sports. The sport THEMES we have are: the baseball theme, the basketball theme, the football theme, the ice hockey theme and the soccer theme. What child doesn't need a step up to reach the bathroom sink to brush their teeth or to help mom in the kitchen making their favorite cookies. Children learn so much when they play with our puzzles/stools. They learn different colors and shapes along with learning the letters to their name.

These puzzles/stools will make a great Baptism / Christening Gift, Birthday Gift, Newborn Gift,Personalized Baby Gift, Christmas Gift or Hanukkah Gift.

Make one of these sport puzzles or sport puzzle stools your next gift for that special child in your life.